The research center is one of the first strategy-oriented centers under China Geological Survey. It is responsible for planning and implementation of the geological research in coastal areas and continental shelves, and providing technical supports for coastal zone management at ministerial and department levels. The center is actively engaged in the integration and promotion of research achievements from coastal zone and continental shelf investigations, and in carrying out researches for solving basic issues encountered in marine geological studies. It carries out strategic studies, provides working guidance, standards, specifications and technical instructions for coastal zone geological investigation and research, organizes on job training and promotes international cooperation and academic exchanges.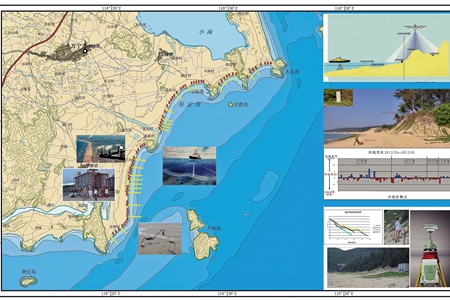 Research Directions:
Regional geology and tectonics in coastal zone and on continental shelves
Geological evolution of coastal zone and continental shelves and their environmental and resource responses
Mineral resources geology of coastal zone and continental shelves
Monitoring of Coastal geohazards and geoenvironment
Geological survey techniques and methods of coastal zones
Geoinformation technology development and application
Fields of main international cooperation:
We have established wide cooperation and exchanges with The Netherlands, USA, Canada, Japan, Korea, Germany, France, Denmark, Italy, CCOP and other countries, regions and international organizations in the field of marine geological survey and research in addition to joint technical training of personnel . In 2008, "Sino-Dutch Coastal Geology Research Center" was established together with The Netherlands Geological Survey.
China-Netherlands cooperative project: "Marine and coastal geosciences cooperation" (2006-2008)
China-Japan cooperative project: "Quaternary Coastal Environmental Evolution" (2008-2010) & (2011-2015)
China-US cooperative project: "Carbon Sequestration Capacity Evaluation in Coastal Wetlands" (2012-2015)
China-Canada cooperative project: "Gas Hydrate Research" (2010-2013)
China - Korea cooperative project: "Quaternary Geology and Geo-environmental Changes in the South Yellow Sea"
China – Germany cooperative project: "Cooperation in Ocean Mineral Resources"
CCOP (Coordinating Committee for Geoscience Programs in East Asia and Southeast Asia)